– CINEMATOGRAPHY: The Language of Film in a Digital World –
---
September 17, 9AM-4PM, Capernaum Studios
---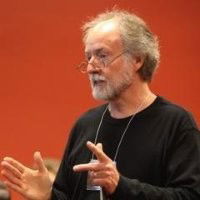 James brings experience
A veteran filmmaker, has produced and directed hundreds of films including Director of Photography for "The Challenger Disaster". His numerous productions have taken him to locations around the world. His work has received some of the industry's most prestigious awards from such organizations as the International Film and TV Festival of New York, INTERCOM, CINE, Parents Choice, Houston International Film Festival, and Telly Awards.
---
CLASS DESCRIPTION (6 hrs in Length)
(Note - James will be bringing his "RED" Camera and will utilize part of the class to Illustrate on a real film set)


Old World Terminology we still use to define the creation of moving images
Framing, Composition, Aspect Ratio, Resolution, Image Size,
Blocking, Sight lines, Stage Line, Movement, Continuity, Focus,
Exposure, Lighting Ratio, Depth of Field
The race toward maximum resolution and the rise of laptops, tablets
and phones as primary viewing devices and how it affects image
creation. AND, even more important, how it affects storytelling
when the audience is eating, talking, thinking, reading, looking
around…. all at once, and hopefully paying attention to your
little film.
Capturing the Moment or Creating the Moment
Which is clearly the domain of the cinematographer?
Finding the point of interest and directing the audience's eye
Tools the cinematographer uses.
Hands on exercises—
Lighting a scene. Establishing exposure and point of focus.
Composition and balance in a frame.
Color, Mood and emotion
What you need to change ( on set ) to make a shot more cinematic.
(paint the walls - move the furniture - fire the director - change the focal
length/aperture - reposition actors and / or camera…)
Choosing camera placement, focal length, ISO, T/stop, aspect ratio
[if time allows]
The difference between a PHOTOPLAY and a Cinematic Experience
(why words have never been 'enough' and THE WORD
had to become story [flesh] )
Reliance on words or images to convey story and message
NOTE: Master Classes/Bootcamps require a minimum of 10 students and will allow a maximum of 25 participants (depending on bootcamp), If 10 students is not met, we may cancel the class and refund your registration fee to this class.
---
LOCATION AND DATE
Capernaum Studios, 10700 FM 920, POOLVILLE, TX, 76487
Same Location as CONTENT18
September 17, 9am - 4pm
---
---
Tuesday, September 17, 9AM-4PM, at Capernaum Studios
NOTE: Intensives require a minimum of 10 and will allow a maximum of 25 participants (depending on bootcamp)