– Marketing and Distribution –
"What to do and What NOT to do"
---
September 25, 3PM - 5PM, Capernaum Film Sets
---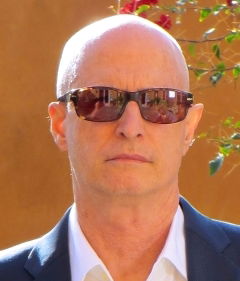 ABOUT JOHNNY
Johnny Remo brings experience
Producer of the movie "F.R.E.D.I.", which just won the 2018 Best of the Fest, of hundreds of films, as Selected by Audience at the Bentonville Film Festival.
Johnny has also produced over 15 features, while writing and directing 6 of them. He has produced for such people as Debra Hill, producer of "Escape from New York", "Fisher King", and "Escape from LA", and Robert Simonds, producer of "The Spy Next Door", "Pink Panther", "Happy Gilmore",and recently "The Dog Who Saved Easter" for Lionsgate.
As a filmmaker Johnny's co-written, produced, and directed such feature films as "A Letter to Dad", "Cutback", "Hardflip", "Like A Country Song", "Saved By Grace" and his newest movie "F.R.E.D.I" which is being released in October. As a filmmaker he knows what a fellow filmmaker goes through to get a film made and as a distributor it makes him strive to get the best results from sales of all movies he distributes.
Real life advice for YOUR journey.
Johnny will be bringing examples from projects past and present. During 2 Class segments, you will what to do and what not to do regarding marketing and distribution.
Johnny has a wealth of knowledge you will want to tap into and learn from.
---
CLASS SUMMARY


Marketing and Distribution — 3PM - 5PM
Social Media
Artwork
Your Trailer
Legal - Attorney
Contracts
Includes - What NOT to do
Learn from Johnny Remo's many years of experience
---
LOCATION
Capernaum First Century Village, 10700 FM 920, POOLVILLE, TX, 76487
Same Location as CONTENT18
---
Tuesday, September 25, 3PM - 5PM, at Capernaum Film Sets